24/7 Call us on | +82·2·533·9565 | Local. 02·533·9565 | hello@exclusivetourkorea.com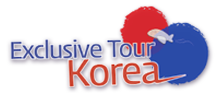 Customize Your Own Korea Tour
Experience Your Kind of Korea Vacation!
You've the idea of the perfect trip. You know where you want to go, what you'd like to see and the amount of time you want to stay, the only problem is, you can't find a pre-packaged Korea tour that suits your travel desires. That's where we come in… Exclusive Tour Korea works with you to organize your Korea vacation at a pace and taste that suits your wish list and your budget. Local knowledge makes all the difference. With offices and local staff in Korea, we can help you plan every aspect of your trip. From a once-in-a-lifetime trip, to a leisurely Korea holiday, our tour design team will plan your dream vacation. Notes: You will fill in an enquiry form, not a reservation form, so no deposit is needed! It is free and fast!
Exclusive Tour Korea Co., Ltd. | E-mail.hello@exclusivetourkorea.com | Tel. +82 2-533-9565
COPYRIGHT(C) 2013 Exclusive Tour Korea Co., Ltd. ALL RIGHTS RESERVED.